For Kids:
Laugh Out Loud Chapter Books & Jokes
Knock, knock! Who's There? Orange. Orange, who? Orange you glad we made a list, so you can find so many funny books in one place??? But, seriously folks... These are some truly funny stories.
---
Going on a Bear Hunt
Bear stories, often with a whimsical touch, that will engage readers young and old. Some of these bears are stuffed and some of them are very, very hungry, but you will still want to meet them all.
---
Luca
The new Disney movie is set in a fictional place in Italy. I hope you enjoy these books about friendship and information about Italy.
---
All Kinds of Families
This list features materials celebrating the uniqueness of families!
---
Frederick Douglass for Kids
Born into slavery, Frederick Douglass later escaped, and also helped others escape on the Underground Railroad. He became a bestselling author, newspaper editor, and a highly sought after and successful public speaker. He was also a tireless abolitionist and civil rights leader. Here are 10 books to introduce kids to this amazing freedom fighter, thinker, leader, and change maker.
---
LGBTQ+ Picture Books
Looking for a way to add some LGBTQ+ books to your story time? Check out this list for some great recommendations! Included in the list are fiction and non-fiction titles ranging from stories about Pride history, same sex parents, gender non-conforming characters and transitioning characters.
---
How Does Your Garden Grow?
This list contains stories and information books all about growing your own garden.
---
Real Kids Becoming Heroes
These kids grew up to change the world for the better. You can too!
---

Great Books for More Interactive Storytime
Here are some books that you can use to create a more interactive storytime. Whether the book is asking a direct question or the book allows you to add movement as you read, these are some great titles worth checking out.
---
For Teens
LGBTQ+ Nonfiction for Teens
Get ready for Pride Month with these great nonfiction teen reads - from histories to memoirs and everything in between.
---
It's About Time (Travel!) for Teens
Time travel is tricky at best. There is always the risk of doing something irreversible and changing the world (and possible erasing yourself). If you don't mind the paradoxes (and try not to analyze it too much), time travel stories can be amazing and fun.

---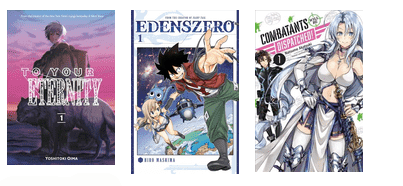 The Spring 2021 Anime Season Guide
Ah, Spring! The air is warming, the trees are budding, and there are still plenty of reasons to stay indoors and catch up on the latest season of anime and the books that inspired them. If you want to read along, ahead, or just want to get from fresh air with a book, here's what the current season has to offer.
---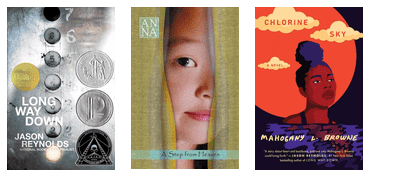 Poetry: Novels in Verse
I'm not sure about you, but in high school, I was NOT a fan of poetry. All the structure--I didn't like rules. Then I discovered novels in verse--poetry to the extreme, often breaking rules of rhyme and rhythm. Iambic pentameter? Not really! Check out these titles for an ultra quick read, and for a new take on poetry.
---
Ye Royal Books for Teens
Books for teens who like a royal theme!